Down syndrome (DS) is a chromosomal disorder that includes a combination of birth defects, including some degree of mental retardation, characteristic facial features and, often, heart defects and other health problems. The severity of these problems varies greatly among affected individuals.
How often the syndrome occurs?
---
Down syndrome is one of the most common genetic defects in birth and affects about one in 800 babies (about 3,400 infants) each year in the United States. According to the National Down Syndrome Society (National Down Syndrome Society), in the US There are more than 400,000 individuals with Down syndrome.
What are the causes of Down syndrome?
---
Down syndrome is caused by the presence of extra genetic material from chromosome 21. Chromosomes are the cell structures containing the genes. Normally, each person has 23 pairs of chromosomes or 46 in total. Every individual inherits one chromosome from each pair of the egg of the mother; inherits the other chromosome of each pair from the father's sperm. In normal situations, the union of egg and sperm results in a fertilized egg with 46 chromosomes.
Sometimes something goes wrong before fertilization. An egg or sperm development can be divided incorrectly and produce an egg or sperm with an extra chromosome 21. When sperm meets an egg, the resulting embryo has 47 chromosomes instead of 46. Down syndrome is called trisomy 21 because affected individuals have three chromosomes 21 instead of two. This type of accident in cell division produces about 95 percent of cases of Down syndrome.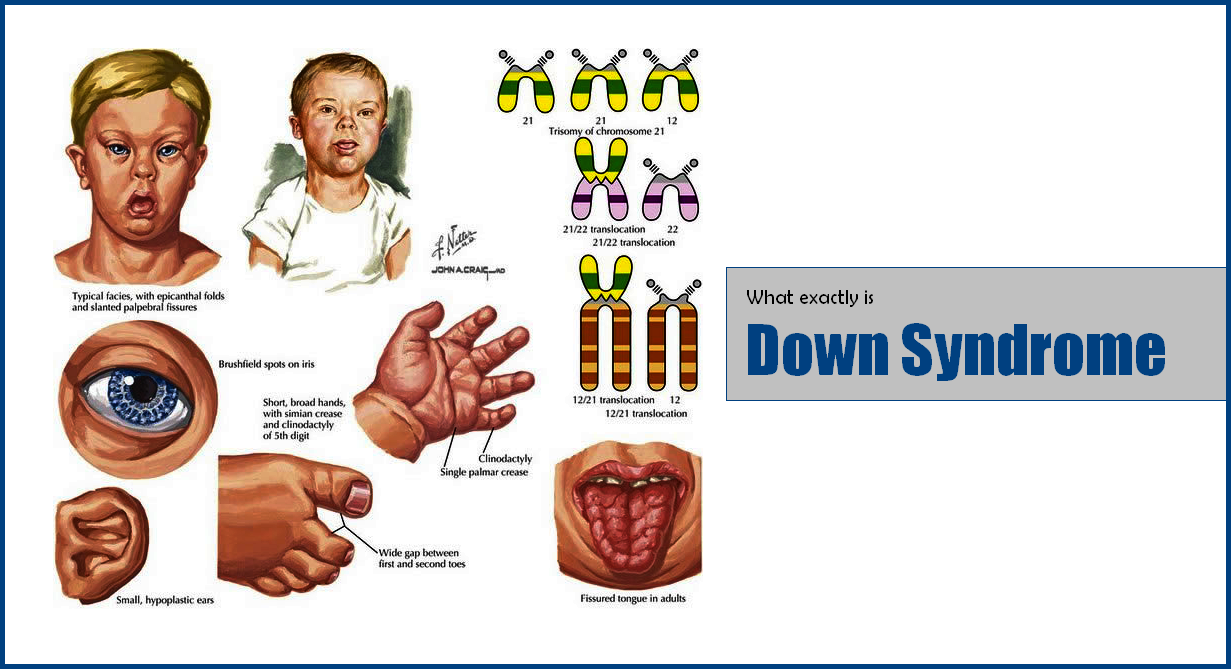 Occasionally, before fertilization, part of chromosome 21 is released during cell division and attaches to another chromosome in the egg or sperm. The resulting embryo may have what is called "translocation Down syndrome". Affected people have two normal copies of chromosome 21, and chromosome 21 additional material attached to another chromosome. This type of accident in cell division is responsible for about 3 to 4 percent of cases of Down syndrome. In some cases, the parent has a redistribution of chromosome 21, called balanced translocation, it does not affect health.
About 1 to 2 percent of people have a form of Down syndrome called mosaic Down syndrome. 3 In this case, the accident in cell division occurs after fertilization. Affected individuals have some cells with an extra chromosome 21 and others with the normal number.
What can health problems have people with Down syndrome?
---
The outlook for people with DS is more encouraging than they used to be. Most of the health problems associated with Down syndrome can be treated and life expectancy is currently 60 years. 2 People with Down syndrome are more likely than not to have affected one or more of the following diseases:
Heart defects: About half of babies with D.Syndrome have heart defects. Some defects are minor and can be treated with drugs, but others require surgery. All babies with Down syndrome should be examined by a pediatric cardiologist, a doctor who specializes in heart diseases of children, and an echocardiogram (a special heart ultrasound) performed during the first two months of life to allow Treatment of any heart defect they may have.
Intestinal defects: About 12 percent of babies with Down syndrome are born with intestinal malformations that have to be surgically corrected.
Vision problems: More than 60 percent of children with Down syndrome have vision problems such as esotropia (cross-vision), myopia, hyperopia, and cataracts.  The view can be improved with the use of glasses, surgery or other treatments. Children with Down syndrome should be examined by a pediatric ophthalmologist within the first 6 months of life and eye exams performed regularly.
Hearing loss: Approximately 75 percent of children with Down syndrome have hearing impairments. It may be due to the presence of fluid in the middle ear (which may be temporary), defects in the middle or inner ear, or both things. Babies with Down syndrome should undergo tests at birth and again during the first months of life to detect hearing loss. Also, they should undergo hearing tests periodically to allow treatment of any problem and avoid problems in the development of speech and other skills.
Infections: Children with Down syndrome tend to colds much and ear infections; moreover, often getting bronchitis and pneumonia. These children should receive all routine childhood vaccines that help prevent some of these infections.
Thyroid problems: About 1 percent of babies with Down syndrome are born with congenital hypothyroidism, a thyroid hormone deficiency that can affect growth and brain development. This hypothyroidism can be detected by screening tests in routine newborn and treated oral doses of thyroid hormone. Children with Down syndrome are also at increased risk for thyroid problems and should be tested annually.
Leukemia:  Less than one in 100 children with Down syndrome develop leukemia, a cancer of the blood.  Often, affected children can be successfully treated with chemotherapy.
Memory loss: People with D.Syndrome are more likely than unaffected individuals to develop Alzheimer's disease, characterized by gradual memory loss, personality changes and other problems) Adults with Down syndrome tend to develop Alzheimer's disease rather than unaffected individuals. Studies suggest that about 25 percent of adults with Down syndrome over age 35 have symptoms of Alzheimer's disease.
Frequently Asked Questions
Some people with Down syndrome have several of these problems while others have none. The seriousness of the problems varies greatly.
Where can you get more families affected by Down syndrome?
There are many organizations that provide support and information to families with children with Down syndrome, such as: